The therapeutic benefits of honey and beeswax
Bees are more than honey. Local business creates all-natural product line from sunscreen to diaper rash cream
Iakovos Korniotis, now 78, learned beekeeping from his father, who learned it from his father. And Yakovos' son is now teaching his own child the craft, making them a multigenerational beekeeper dynasty! But it wasn't until Erin – a native Californian – joined the clan that the family went from an ancient craft to a modern wonder, launching a line of innovative products based on their own bees …
"The family has been in the bee business for over half a century," says Erin, 37, who married Yakovos' son and shares the family's passion. "There is definitely a strange fascination. This is probably the dynamics of the hive. Bees have complex societies that work like a well-oiled machine: the way they communicate and work together, the distances and the number of flowers they visit, the health benefits of everything they make… bees intrigue endlessly!
With over 150 beehives in and around Kato Drys, Lefkara and Choirokitia, the Korniotis family are among the most well-known beekeepers on the island. For generations, they have lived and breathed bees: they take care of creatures and the earth; ensure that fields and orchards on which bees forage are chemical-free, cultivated in harmony with nature.
Just like the insectoid company they admire, each member has their own role in the business: "Iakovos is the main beekeeper with Souba, his assistant," Erin explains. "His wife, Ellie, runs the Bee Museum with her daughter Theodora. And my husband Michalis helps with the bees and handles a lot of the business aspects.
But with the arrival of Erin, the family diversified into a very modern field: the creation of a whole range of products based on the therapeutic benefits of honey and beeswax. Known as BeeKind, it is the result of over 50 years of sustainable beekeeping within the Natura 2000 reserve: land on which biodiversity is strictly protected, and natural farming methods are essential.
"Our herbs grow wild in the fields where our beehives are; they are never sprayed with pesticides and the whole process works in harmony with nature, "reveals Erin. "We maintain the natural balance of wild plants; bees forage for free; and we are working in an environmentally friendly way to collect a small amount of their honey and wax to use in our products.
Known for its healing properties, this honey is produced by Apis Mellifera Cypria, the bee of Cyprus. But BeeKind products are an original idea from Erin. "My stepfather grew up using everything from raw honey to natural beeswax to heal wounds and heal ailments," she reveals. "So when he asked me to create something natural to heal his dry hands, I relied on his knowledge of herbs and bees to create a natural and healthy product. "
The result was a healing balm made from natural beeswax. And such was her success, Erin soon began to research other uses for the family's bee products. "At the time, I was pregnant with my son," she explains, "and I was looking for natural products that I could use on myself and that were completely safe. But this stuff is very hard to find – go to a pharmacy or a doctor and they will usually recommend lanolin creams for you; but lanolin not only has a rough texture, it is often loaded with chemicals and pesticides.
Instead, Erin set out to create a line of products that would be completely natural and completely safe. "In many ways, it was based on need," she continues. "First came the natural nipple cream. Then when my son developed diaper rash, I figured out how to make a completely chemical-free diaper cream… "
Erin, who first trained as a psychologist and later as a doula, has always enjoyed being creative with the materials available. And as a member of the Korniotis beekeeping family, his access to natural products and traditional wisdom is unmatched.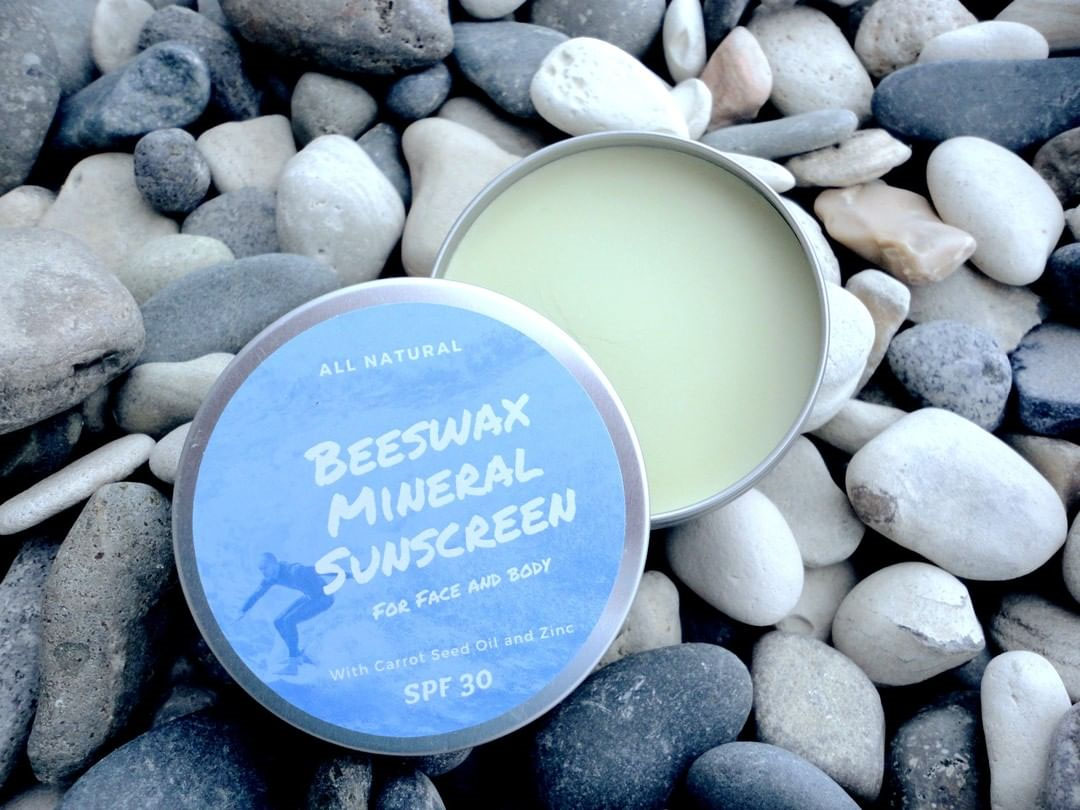 "I started to explore and experiment with different materials," she continues. "Bees are truly amazing insects – almost everything they create has incredible benefits: anti-fungal, anti-inflammatory, anti-bacterial. So I had a wealth of materials to work on… "
Now, five years later, BeeKind offers a wide range of natural, locally made and environmentally friendly products. In addition to the mom line (which includes Nursing Mama Nipple Cream, Beeswax Diaper Cream, and Baby Moisturizing Massage Cream), there is Beeswax Moisturizer with vanilla essential oil, beeswax moisturizer with papaya seed oil and beeswax furniture polish.
Erin has also developed a number of thoroughly modern formulations – products you wouldn't have seen just a decade ago – including beard wax, tattoo care pomade, non-toxic sandwich wraps and fully compostable and natural sunscreen. "Beeswax mineral sunscreen is a bestseller," she admits. "Made from beeswax, olive oil and zinc oxide mineral powder, it has an SPF of around 30. Beeswax really helps it stay in the skin well. water. Plus, it's completely natural, so it won't harm fish or corals.
But contemporary creations do not stop with beeswax. BeeKind offers a number of naturally infused oils, including helichrysum and calendula oil. "I'm proud to keep up with the latest research," says Erin. "And in the last few years, some essential oils have been proven to be dangerous for babies or young children. Instead, we use infused oils: the herbs and plants are harvested from our fields without chemicals and infused in virgin olive oil from our own orchards. "
Last but not the least is honey. And while the family is already producing an award-winning product – "We were very proud when our honey won multiple Gold Awards at the London Honey Awards in 2020!" – Erin has taken it one step further by creating a mouthwatering selection of naturally-infused fruit and herbal honeys available in season: Mandarin Honey, Lemon Honey, Ginger Honey, Lavender Honey, Honey Honey aronia and deliciously rich chocolate honey (which makes Nutella taste like water!).
"Everything at BeeKind," she concludes, "is created using traditional techniques and ingredients, but with modern needs and eco-friendly practices in mind. And, of course, to bees. The world's food sources depend on bees, so doesn't it make sense to be kind not only to each other, but also to nature, the earth and especially bees? "
For information and products on BeeKind Cyprus, visit the "BeeKind Cyprus" Facebook page or https://emwhitlock1.wixsite.com/beekind